2013 One World Fiesta in Iwate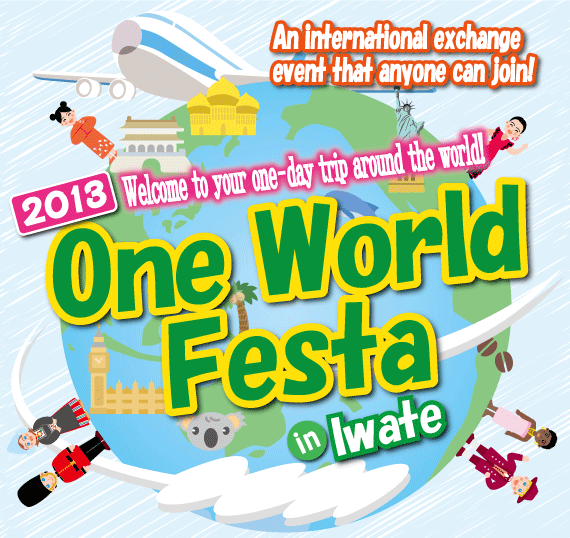 【Access】
 Note: The center has no car park. Please use the paid parking in the vicinity.
---
■ Program
---



Global Marketplace
 ~An Introduction to the One Village, One Product
   Movement~
5F Gallery Aiina
The "One Village, One Product Movement" began in order to aid developing countries. Different regions develop selling points for their unique products to market their goods on the global market. There will be lots of unique goods from Africa and Asia, including coffee, tea, shea butter and more!
UNICEF Goods Sale
5F Gallery Aiina






One World Café ~Lunch Time around the World~
5F International Exchange Center
You can enjoy bento-box lunches with food from around the world!
Prices between 600 yen and 1,050 yen, supplies limited! (Sale will end once lunches are sold out.)
Fair Trade coffee, tea, German cakes and other confectioneries will be available.
★Supporting Members of the International Association will receive one free drink!
★For those who bring their own cups, you'll get a free treat!






166th Chatland International Exchange Event
One World on the Stage
 ~Let's have fun together!~
5F Conference Room 501
It's a stage where you can enjoy dances and music from countries around the world! Music and dance is your window to the world, so why not open it?
  11:00 Dance from the Solomon Islands 
  11:30 Korean Folk Dance 
  13:30 African Dance Workshop 
  14:30 Filipino Dance, Bamboo Dance
International Understanding Workshop
5F Meeting Room
Time 10:30~11:00、13:30~14:00
We'll be holding an International Understanding Workshop for anyone who wants to join.
We will also be selling educational materials on international understanding.








Color the World
Foreign Country Booths &
International Exchange Group Activity Exhibition
4F Citizen's Plaza, 5F Gallery Aiina
There will be foreigners in booths to explain about their countries, as well as an Iwate Winter Resort Kyougikai Booth, and an exhibition detailing the activities of international exchange groups. There will be booths for about 30 countries, with explanations of those countries' festivals and holidays. So everybody pack your bags for your one-day trip around the world!
★First 200 quiz rally participants will receive a fantastic free gift!
---
■ Flyer
---
| | | |
| --- | --- | --- |
| Front(PDF: 994KB) | | Back(PDF: 1MB) |
---
■ For more information, contact
---
Iwate International Association
Morioka-shi, Moriokaeki Nishidori 1-7-1, Aiina 5F, International Exchange Center
TEL 019-654-8900 / FAX 019-654-8922
Email 
oneworld@iwate-ia.or.jp
URL 
http://iwate-ia.or.jp
---
| | |
| --- | --- |
| Organizers:  | Iwate International Exchange Center, Iwate International Association |
| With the cooperation of:  | the 2013 One World Festa in Iwate Organizing Committee |
| Co-sponsored by:  | Iwate Winter Resort Kyougikai |
| Supported by:  | Iwate Prefecture Board of Education, Morioka City, Morioka City Board of Education, JICA Tohoku Branch Office, Iwate Nippo Company, Asahi Shimbun Morioka General Office, Mainichi Shimbun Morioka Branch Office, Kahoku Shimpo Morioka General Office, Morioka Times, Iwate Nichi Nichi Shimbun, NHK Morioka Broadcasting Association, IBC Iwate, TV Iwate, Iwate Asahi TV, FM Iwate, Iwate University, Iwate Prefectural University, Iwate Medical University, Morioka University, Fuji University |
---
■ View photos and records of past One World Festa
2012
2011
2010
2010 Cooking Contest
2009
2009 Photos