Events
English Corner=Online=
Iwate International Association
2020.08.01 (Sat) August 1 (Sat) ①1:00pm~1:30pm ②2:00pm~2:30pm ③3:00pm~3:30pm
The "English Corner" event in July and August will take place online to prevent the new coronavirus (COVID-19) from spreading.
Let's chit chat in English together!
For each time slot, a non-Japanese tutor will lead the conversation.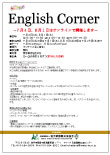 ■ Date & Time 
  August 1 (Sat) ①1:00pm~1:30pm ②2:00pm~2:30pm ③3:00pm~3:30pm
■ Closing date for applications  
 Until 5 pm the day before the event
■ Conversation topic
   
August 1 :Comfort food
■ Venue
 Online 
■ Fee
 free
■ Who can participate
 Residents of Iwate prefecture
■ Capacity
 5 people per time slot (Reservation required, first come, first served.)
About the software we will use
The software we will be using is "zoomミーティング"
※We will explain how to use this software by email.
※Internet connection is required to use this software.
How to apply
Please send us an email with the information below.
・Title of the event(English Corner, July 4 or August 1)
・Your name
・Your username (your real name or your nickname) * should be written in alphabet
・Your phone number
・The town where you live
・The time slot you would like to participate in.
(①1:00pm~1:30pm ②2:00pm~2:30pm ③3:00pm~3:30pm *Please choose two possible time slots)
※After your application has been finalized, we will send you the URL, ID and password to join the event.
What you need for this event
・Internet connection
・PC, smartphone or tablet device
(with webcam, microphone and speaker)
Important
・Please confirm in advance that your internet connection and your device work well.
・Please find a quiet area before participating in the event.
■Inquiry
Iwate International Association
Aiina 5F,International Exchange Center
Morioka ekinishidori,Morioka Iwate 020-0045
For enquiry through telephone or mail ⇒
Click here